Relax. Let us do the cooking.
Looking for a quick, easy option for feeding guests at your next event? We offer a variety of trays to suit every occasion!
Breakfast trays -- featuring your choice of scones, croissants, danish and muffins. We also can provide jam and butter, as well as cutlery and napkins. We also have a variety of drinks to choose from, including coffee brewed fresh and served in one of our coffee carafes!
Sandwich trays -- an excellent choice to feed a big group of people. All of our sandwiches are served on our fresh-baked white, brown, multigrain or cheese bread! Some popular sandwich choices include ham, turkey, roast beef, tuna, salmon, and our delicious home-made egg salad! As well as doing regular-sized sandwiches, we can also do tea sandwiches or rolled sandwiches made with our coloured bread!
Sweets trays -- let us know how many people you need to feed and we can make a tray with an assortment of our cookies or squares! Don't know how many items to get? A good rule of thumb is two items per person -- as we like to say, a cookie for each hand!
Fruit or Vegetable trays -- an excellent addition to our sandwich trays, these trays go well for breakfast or lunch. You can request specific fruits or vegetables, or you can let us decide! All trays come with a dipping sauce -- either yogurt for the fruit, or ranch for the vegetables.
Hot foods -- we can also provide you with hot items right from our bakery to serve at your event. Our quiches and meat pies are popular, as are our sausage rolls. We can provide them in a variety of sizes (including bite-sized!). You can also buy these items cold and reheat them when you need them!
Want to know more? Call us at 519-824-6750 or email us at westendbakeryguelph@gmail.com and we would be happy to answer any questions, as well as provide you with a quote!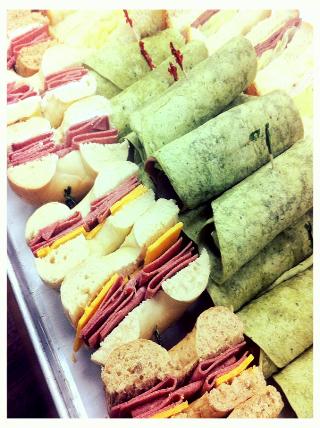 Do you run a local restaurant? We can provide bread and baked goods to your establishment!
We have been providing local restaurants with our bread for many years! Call or come in to ask about what we can offer.